2017 Jamboree Contingent Dinner and Program
The Denver Area Council (DAC) cordially invites all Scouts, Scouters and family members to attend our 2017 Jamboree Contingent dinner and program!
For over 75 years, the National Scout Jamboree has brought members from all over the country and the world together to share the bond that is "Scouting." This DAC event is designed for everyone attending next year, as well as, those interested in finding out more on how attendees will "Live Scouting's Adventure."
The program includes: Jamboree overview, pre-trip overview, patch designs, etc. This is an event that you, your parents, and family members do not want to miss!
Date: Wednesday, November 2, 2016
Time: 6:00 PM – 8:30 PM, Dinner will be served at 6:30
Cost: $17/Adult (12+), $12/Child (Under 12)
Location: Jefferson County Fairgrounds, 15200 W 6th Ave Frontage Road, Golden, CO 80401
Please RSVP and let us know you're coming. Registration is open!
2017 National Jamboree is Coming!!
The Scouting event of a lifetime is coming – July 19th-28th 2017, and it's time to sign up and get ready! Join over 35,000 Scouts and Venturers from around the world for a mind-blasting and fun experience. The 2017 theme, "Live Scouting's Adventure," speaks both to Scouting's century-old tradition of creating adventures that develop young people into the leaders of tomorrow and to the developing adventures of the next century of Scouting.
This will be the second Jamboree held at the Summit Bechtel Family National Scout Reserve in West Virginia's adventure sports region known as the New River Gorge. Located on a sprawling 10,600 acres, the property includes more than 5 miles of zip line and challenge courses, 36 miles of mountain bike trails, and 13 acres of shooting sports ranges, as well as venues for kayaking, rock climbing, bouldering, skateboarding, BMX, and many other activities. Want to know more about Jamboree? Check out the Jamboree Overview on the Summit Bechtel Family National Scout Reserve website.
So What's The Big Deal? 2017 Is Two Years From Now!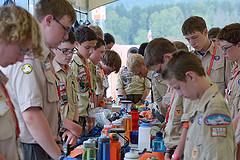 Yes, but there's so much to do to get ready! Denver Area Council will be sending six Troops and two Venture Crews. Each Troop consists of thirty-six Scouts and four adult leaders. Each Crew consists of eight Venturers and two crew advisors. With a limited number of spots that fill up fast, you want to make sure that you can attend all your friends from your home Troop and Crew! There is lots of planning, preparation for this trip, which includes five or more days of touring historic locations in the East Coast/Washington D.C. area in addition to the ten days of Jamboree. Also, it gives you enough time to raise the funds needed to attend the Jamboree.
Adult leaders and Crew advisors will be selected in early 2015. Scouts and Venturers will be able to register in the spring of 2015. Troops and Crews will start forming during 2015, and begin operating in 2016. Requirements to attend are:
Scouts must be at least First Class be the start of the Jamboree. They must be at least twelve years of age by July 1st, 2017 or completed the 6th grade, but not have reached their 18th birthday by July 28th, 2017.
Venturers must be fourteen years of age by July 1st, 2017, but not have reached their 21st birthday by July 28th.
A National Jamboree is a rewarding and lifetime experience that takes place in the outdoors. It includes walking/hiking many miles a day with activities in the humid summer climate of West Virginia. Youth must be in good physical health and pass a BSA physical.
The cost of this event is $2,800 per Scout. This includes all meals, lodging, activities and transportation for the entire Jamboree and tour. Extensive fundraising activity is planned in order to assist all Scouts to cover the costs. Scholarship support will be available on an individual situation basis.
How Do I Sign Up?
Units are being formed now - we are sending both Troops and Crews. It's easy - Join the adventure here!
Because there is a requirement for applicants to be currently registered with the BSA to access the jamboree applications and at least 13 years of age and a graduate of the eighth grade or 14 years of age to join Venturing, there is a small group of potential attendees that is currently blocked from submitting an application.
If the above paragraph applies to your son or daughter, please register them here.
Where Can I Get More Information?
Should you have questions, please contact:
| | | | | |
| --- | --- | --- | --- | --- |
| Unit | Position | Name | Phone | Service Location |
| Troop 1 | Scoutmaster | Tim Davies | 303.912.5632 | Serving the Arapahoe (eastern) and Pioneer Trails Districts |
| Troop 2 | Scoutmaster | Curtis Letson | 719.200.8681 | Serving the Arapahoe (western) and Frontier Districts |
| Troop 3 | Scoutmaster | Bob Bucklin | 720.480.2152 | Serving the Centennial and Pioneer Trails Districts |
| Troop 4 | Scoutmaster | Nate Graf | 303.435.4847 | Serving the Gateway District |
| Troop 5 | Scoutmaster | Mike Thabault | 303.968.9758 | Serving the Timberline District |
| Troop 6 | Scoutmaster | Brett Dorny | 720.345.2609 | Serving the Valley District |
| Crew 1 | Crew Advisor | Scott Markowitz | 303.877.0916 | Serving the southern and eastern portion of the Denver Metro Area |
| Crew 2 | Crew Advisor | Ken Kinnard | 303.884.4796 | Serving the northern and western portion of the Denver Metro Area |